27th - 28th January 2020 EU Student Camp 2019 "Modernising European cities & villages: Looking at examples in Germany & Finland"
[ Editor: Institute for Industrial Research 30th July, 2020 ]
27th - 28th January 2020, EU Student Camp 2019 "Modernising European cities & villages: Looking at examples in Germany & Finland"
Subject: Revitalising Europe's rural areas and cities
Date: 27 - 28.01.2020
Place: Camp Sengari, Kwansei Gakuin University
Coordinator: Prof. Holger Bungsche, Dr. Anna Schrade
Number of participants: 11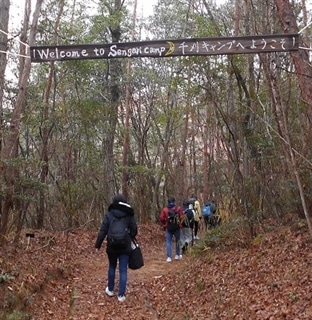 <Day 1>
First presentation (13:10-14:10): Anna Schrade - Revitalizing Regions: A comparison Between Europe and Japan
The presentation first compared broad demographic trends in major industrialized countries around the world, before focusing on demographic changes predicted for Japan until the end of the century. Since almost all regions, towns and cities in Japan will experience severe declines in their population, the task for national, prefectural and regional governments and administration is to provide sustainable infrastructure and services to a shrinking population. Examples from Europe and from the region of Tamba Sasayama showed, that sustainable and high quality levels of services can be provided even to a smaller population by often simple but intelligent measures.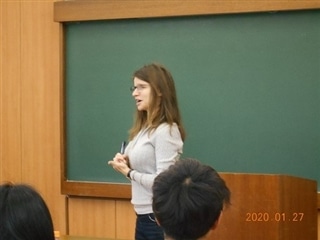 Second presentation (16:30-17:30): Holger Bungsche - Renewable Energies: a Chance for New Regional Industry Development?
The presentation first introduced the "German Energy Turnaround", which means the policy to abandon in a first step nuclear energy production until 2021, and in a second step to end energy production from fossil energy sources, in particular from coal until around 2035. Against this and the background of EU policies combating climate change, the presentation proceeded and introduced the concept of "Living Labs" in Germany as a relatively new approach for economic and social experimentation under real life conditions.
The presentation in particular elaborated on the Living Lab "Energy Avant-Garde Anhalt" and its approach to not only shift energy supply from fossil to renewable sources, but to realize value creation along the value chains of energy production regionally and locally. This could create spill-over effects to revitalize economic and industrial activities in a regions that has been struck by severe social and economic structural change since the 1990s.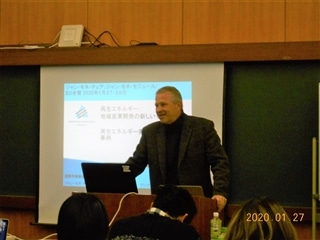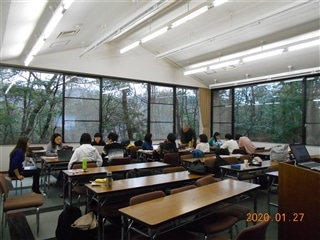 <Day 2>
Third presentation (9:10-10:10): Holger Bungsche - European Capitals of Culture - A Peculiar Program to Foster Regional Development and European Integration
The presentation first outlined the various measures the EU applies for regional development, before introducing the program "European Capitals of Culture" which was initially established in 1985. Over the years the program developed into one of the most popular programs of the EU with now every year numerous cities and towns of two EU member states competing against each other to be, after a five-year application process, awarded the title "European Capital of Culture". The presentation finally introduced the bid-book of Nuremberg (Nürnberg), a German city that is currently applying for becoming "European Capital of Culture" in 2025.
After this last presentation the students presented in about 15 minutes each the results of their group works.
Based on the two presentations and short summary of the third presentation on the EU program "European Capitals of Culture" as a very peculiar way of fostering regional development and European integration, the students formed three groups for group work. One group developed ideas for regional economic and industrial development, one other group focused on social policies and developed ideas how regions could become more attractive, and the third group elaborated proposals for regional development by fostering cultural activities and tourism.
Afternoon: Optional tour (12:30-)
【First Program Point】 Visit of Municipal Administration of Tamba-Sasayama and Presentation of Regional Development in Tamba-Sasayama.
In a 30 minutes presentation the representative of the Town Development Department, Tamba Sasayama city administration presented detailed data on population and economic development of Tamba-Sasayama, the challenges the region is facing and the various measures the Town Development Department has already undertaken in order to attain a sustainable social and economic development of the region.
After that the students had the chance to ask questions and also to bring forward some of their ideas they had developed during the study camp.
【Second Program Point】 Visit of the civil initiative "Shoku no mirai juku" (Study Group of Food for the Future").
The group has about 40 members, most of them are in one form or the other returners to the Tamba-Sasayama region (I, J, or U returners), who are producing and marketing local healthy food. Seven members of the group first described how they came to Tamba-Sasayama before explaining what specific product each of them is producing. The idea behind the group is to establish a Tamba-Sasayama brand specialized on mainly traditional, healthy food from local agricultural products.
Over more than an hour the students learned about the many difficulties the members had or have to overcome in order to market and sell their food successfully which for many of the elderly members of the group simply means a small additional income to their pensions.