9th December 2020 "Online Visit" to the Delegation of the European Union to Japan
[ Editor: Institute for Industrial Research 1st February, 2021 ]
9th December 2020 "Online Visit" to the EU Delegation to Japan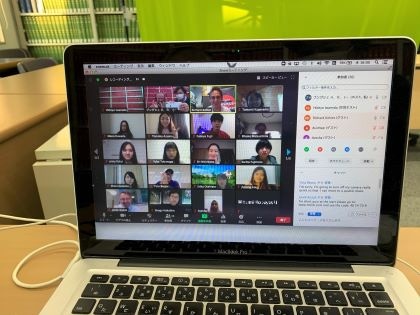 Date: 9th December, 2020
Coordinator: Prof. Holger Bungsche (School of International Studies, KGU)
Participants: 23
Topic: "Current Issues and Challenges in the EU"

1st Presentation: "EU, Japan and COVID Recovery"
Presenter: Mr. Jacek Kozak (Trade Section, Delegation of the European Union to Japan)

2nd Presentation: "Erasmus+ Chances for Japanese Students for Postgraduate Education"
Presenter: Mr. Richard Kelner (Press, Public and Cultural Affairs Section, Delegation of the European Union to Japan)
The first presentation given by Mr. Jacek Kozak of the Trade Section was divided into four sections. The first gave, based on main economic data, a short overview over the size of the EU's economy and outlined the benefits the EU provides for its citizens as well as for businesses. This part of the presentation ended with current challenges the EU is facing to increase the profits deriving from the integrated EU Single Market and to strengthen the EU's global competitiveness in particular with respect to creating a strong innovation ecosystem, providing skills, know-how and education for the young generation, and establishing a sound financial and institutional basis for accomplishing both tasks.
The second part highlighted the development of EU-Japan relations particular after the Strategic Partnership Agreement and the Economic Partnership Agreement enter in the third year of their implementation. This part basically stressed the fact that the relations between Japan and the EU are not just based on common economic interest, but that both, the EU and Japan, are sharing a common set of values with respect to democracy, freedom and human rights.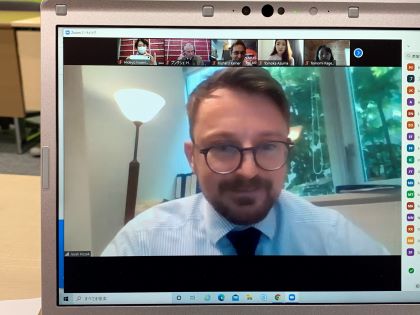 The third part continued stressing the similarities between Japan and the EU, this time with respect to the countermeasures the EU and Japan have taken in order to fight the COVID 19 crisis. In this part the presentation in particular focused on the measures taken on the EU level in support of measures taken on the national level on the on hand and, on the other hand, the challenges the EU faced in upholding in particular the achievements of European integration like the mobility of workers also in times of crisis.
In the final part of the presentation the presenter looked ahead to the post-COVID 19 challenges, which again the EU and Japan are as well commonly facing. The presenter stressed that there are two overriding tasks for the next decades that will be decisive for the future development of the EU and Japan. These are the Green Revolution and the Digital Revolution, or simply 'Digital for Green'. Based on various interesting data the presenter showed that green policies and digitalization are two sides of the same coin, which only in combination will succeed to achieve real sustainable economic, social and environmental development.
The presentation was followed by numerous questions from the participating students.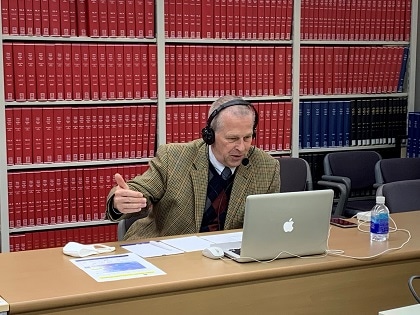 In the second presentation Richard Kelner, Academic Cooperation Officer of the Press and Cultural Affairs Section, introduced the opportunities the EU provides also for students from Japan to study in Europe. Briefly explaining the Erasmus program, Mr. Kelner gave various practical advices with respect to how to search for appropriate programs in the EU and how to apply for these programs.