DELIVERABLES Jean Monnet Module
DELIVERABLES 

Jean Monnet Module
(Agreement No. 2018・3245 / 010 – 001)
During the 3-year period we intend to publish a journal edition, a book, and several articles and memos on the topic. To attract the attention of the many government and non-government bodies working on regional economics, we also publish bi-monthly newsletters with the latest research results, case studies, best practice examples and students' fieldwork, among others.
[ Editor: Institute for Industrial Research 2nd September 2022]
Books
A journey through Europe: Societies, politics and contemporary issues in the EU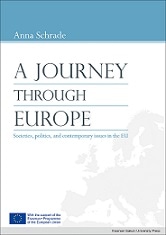 Author: Dr. Anna Schrade
Language:English
Publication date: 31st August 2022
Publisher: Kwansei Gakuin University Press
ISBN: 9784862833433
Price: 3,000 yen +tax
Kwansei Gakuin University Press - A journey through Europe: Societies, politics, and contemporary issues in the EU
Journals & Research Papers
Research project 1
Theme: Labour Mobility and its impact on rural depopulation in Estonia and Finland. Recent patterns of labour mobility in the Baltic states (incl. returning migrant workers) and its impact on rural revitalisation
Research project 3
Theme: Population ageing and efforts to guarantee universal social welfare and medical provision in (Eastern) Germany
NB: due to mobility restrictions resulting from the Covid-19 pandemic, this research only focuses on Germany (and not also on Italy)
Research 3: Research summary "How can Germany secure adequate medical care for all?"


The Review of Economics and Business Management (Sanken Ronshu) No. 49, pp.1-63, March 2022
SCHRADE Anna, Editor-in-chief
"Coping with demographic change. New attempts in the EU and/or Japan to stem the demographic challenges."
Articles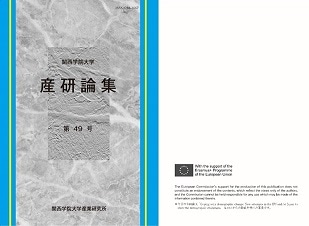 WATANABE Hiroaki Richard, "Coping with low fertility rates in OECD countries: the case of Japan"
RIMINUCCI Michela, "Japan and Diversity as a Strategy to Successfully Manage Demographic Change"
SCHRADE Anna, "Revitalising and rejuvenating the countryside through foreign workers: a case study of the Technical Intern Trainees working in oyster farming in Hinase (Okayama Prefecture)"
JACKSON Keith Geoffrey, "Memory, influence and rural re-vitalization in Hyogo Prefecture: preparing to evaluate visitor memories of the Osaka World Expo 2025"
RAWLINSON Francis, "A new regional development policy in the UK: the 'levelling up' agenda"
The Review of Economics and Business Management (Sanken Ronshu) No. 49Kwansei Gakuin University Repository