29th March 2022 JMM Conference "Rural Revitalisation: Industrial, Economic and Social Perspectives" (co-organised with Jean Monnet Chair Workshop "Regional Industries and Economic Development in the EU and Japan")
[ Editor: Institute for Industrial Research 30th August, 2022]
29th March 2022 Conference "Rural Revitalisation: Industrial, Economic and Social Perspectives"
(co-organised with Jean Monnet Chair Workshop "Regional Industries and Economic Development in the EU and Japan")
Title: Rural Revitalisation: Industrial, Economic and Social Perspectives
(JMC Workshop "Regional Industries and Economic Development in the EU and Japan")
Date & Time: 29 March 2022, 3 p.m. – 6:45 p.m.
Location: Online
Language: English and Japanese
Participants: 14
We are delighted to announce that our first joint JMM and JMC academic conference was successfully held on March 29th, 2022. Due to the ongoing restrictions on travel to Japan, the conference was held online to accommodate for the participants who could not join in person.
Jointly organised with KGU's Jean Monnet Chair workshop "Regional Industries and Economic Development in the EU and Japan", which is led by Prof. Holger Bungsche, the conference combined difference perspectives on rural development. Under the title "Rural Revitalisation: Industrial, Economic and Social Perspectives", the six presenters from Japan, Germany, the UK, and Bangladesh provided new ideas and insights into the potential for development in Europe and Japan.

We started off with a presentation by Takehiko Okamoto, Associate Professor at Takamatsu University on "Ethical Decision-Making in Regional Economic Revitalization by Local Production for Local Consumption: Based on the case of Western Japan". Prof. Okamoto analysed how local production and local consumption could revitalise local areas and promote tourism. At the example of the Shikoku area in Japan, he showed how Kamikatsu-cho, Tokushima Prefecture successfully managed to promote their local produce and thus their community through food tourism.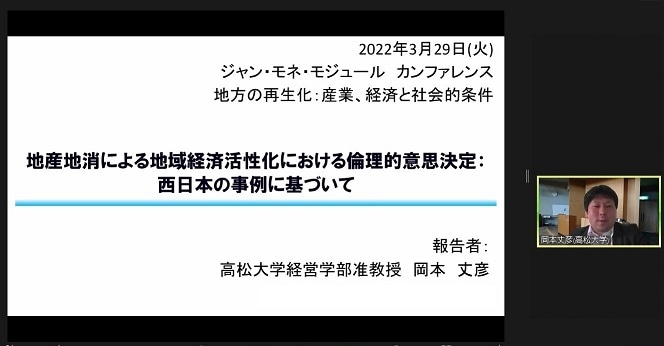 The second presentation focused on how art could promote rural revitalisation. AKM Tajkir-Uz-Zaman, Ph.D. student and Keith Jackson, Professor at Kwansei Gakuin University, analysed how Teshima, Kagawa Prefecture developed from garbage island into art island. They highlighted the potential for local communities to use art and culture for regional development and tourism. A highlight of their presentation titled "Researching stakeholder perspectives on solid waste management practices in rural Japan: lessons for community re-vitalisation programmes in rural Bangladesh?" was the comparative perspective with Bangladesh on regional solid waste management.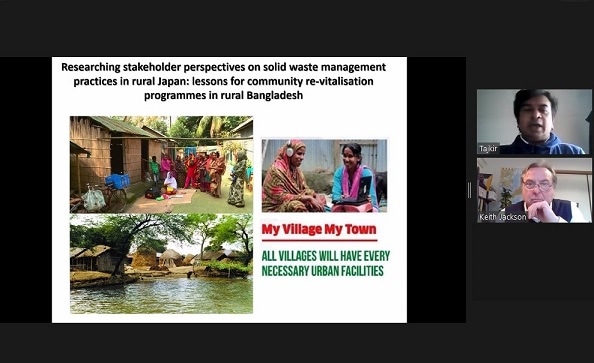 The third and last presentation before the break focused on "The Impact of European-Japan Cluster Cooperation on Regional Development". Naoki Fujiwara, Associate Professor at Otemon Gakuin University, showed how even small remote towns could become national and international leaders in product research and development. At the example of Karatsu, Saga Prefecture in Kyushu, he pointed out how international cooperation, such as between Japanese and European companies and research institutions, could lead to remote towns becoming market leaders – in this case in the perfume and personal care industry.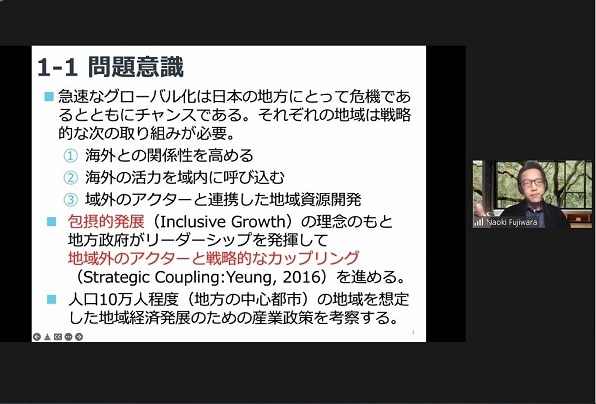 While the first half of the conference focused on examples of rural development in Japan, the second half had a focus on Europe (Germany & the UK). JMM leader Anna Schrade, Associate Professor at Kwansei Gakuin University, kicked off the first of two presentations focusing on renewable energy in Germany. Under the title "Energy-Autonomous Villages in Germany: a Trend to Follow?", her presentation analysed the potential for local communities in rural Germany and Japan to become energy providers. She presented examples from Germany, where over 150 villages and small towns have not only become energy-autonomous, but also generate revenue from producing and selling renewable energy to energy providers.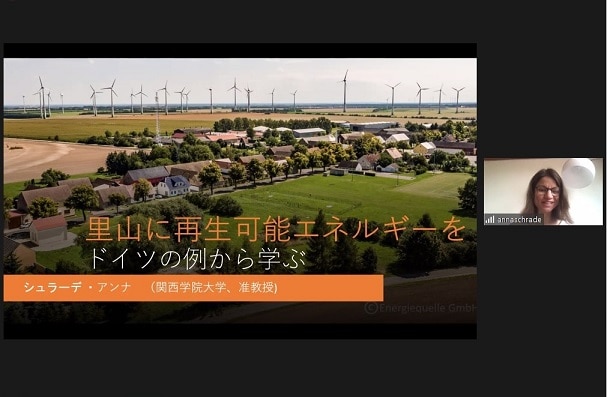 Similarly, Holger Bungsche, Professor at Kwansei Gakuin University, showed how local communities could benefit from local energy production in his presentation on "The Impact of the EU's Green Deal on Local Industry Development: The Renewable Energy Sector as Example". Using the example of the Energie Avantgarde, he emphasised that the EU's Green Deal provides a considerable potential for local energy production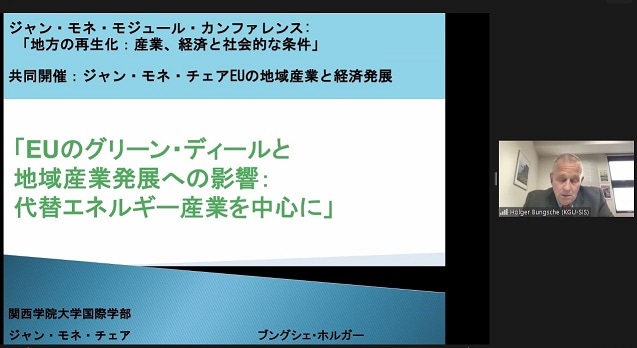 As the sixth and last speaker, Francis Rawlinson, Fellow at Kwansei Gakuin University, provided insights into the UK's recent levelling-up agenda. His presentation on "The Levelling Up Agenda: A new Regional Development Policy in the UK?" analysed the British government's ambitious plans to replace the EU's regional development programmes (that ended for the UK after Brexit) with national programmes for rural revitalisation. He showed that the great potential of the new planned policies, but also pointed to the delay in implementation and the sometimes vague nature regarding how to initiate and manage these policies.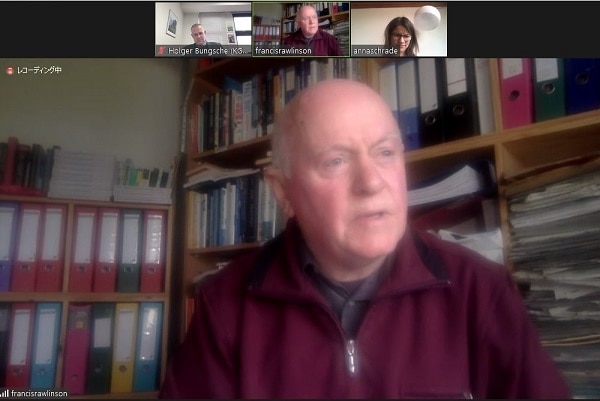 The conference was very well received among the participants and the audience, who enjoyed listening to the many examples of how rural areas could turn their (remote) location into a strength. All presentations were captivating as the case studies and best-practice examples were often not widely known.
We are happy that this joint JMM and JMC conference was so successful and motivated all participants to engage more in comparative analysis.
Presentation Slides
Anna Schrade "Energy-Autonomous Villages in Germany: a Trend to Follow?"
Holger Bungsche "The Impact of the EU's Green Deal on Local Industry Development: The Renewable Energy Sector as Example"


Poster – JMM Conference "Rural Revitalisation: Industrial, Economic and Social Perspectives"(co-organised with JMC Workshop)