28th June 2022 Seminar by Mr. Martin Eberts, Consul General, Consulate General of Germany Osaka-Kobe
[ Editor: Institute for Industrial Research 25th August, 2022 ]
28th June 2022 Seminar by Mr. Martin Eberts, Consul General, Consulate General of Germany Osaka-Kobe
Title: Population Ageing & Medical Care in Rural Germany
Date & Time: 28th June 2022, 11:00 a.m. – 12:40 p.m.
Lecturer: Mr. Martin Eberts, Consul General, Consulate General of the Federal Republic of Germany Osaka-Kobe
Venue: Library Hall, KGU
Language: English (No interpretation provided)
Participants: 13

On 28th June, we had the great honour of welcoming the Consul General of the Federal Republic of Germany Osaka-Kobe, Mr. Martin Eberts. He gave a lecture on Population Ageing and Medical Care in (rural) Germany, providing deep insight into how Germany was dealing with the double challenge of having an ageing populating and (soon to be) declining population.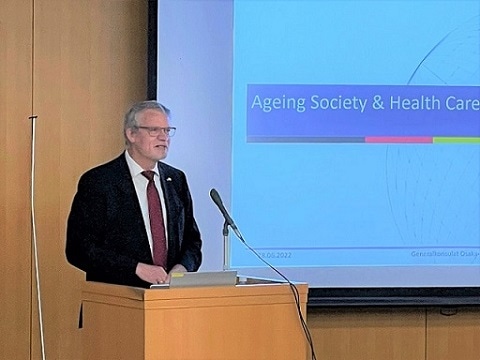 Mr. Eberts showed that although Germany's population is ageing rapidly, the German medical system is, at least at the moment, able to cope with the challenges associated with it. However, he also highlighted that especially in the rural areas of Eastern Germany, medical doctors are needed to provide sufficient medical and elderly care. Without the many foreign doctors, nurses and (private) caregivers that have been employed in Germany for the past decades, it would not be possible to keep the high standard of care.
A central part of Mr. Eberts' lecture focused on policies to increase Germany's fertility rate. He highlighted that in addition to immigration and better social policies for families, a reduction in abortion could also be key to stop the rapid population ageing.
The audience really enjoyed the lecture and Mr. Eberts received many questions after his presentation, all of which he answered with great knowledge and professionalism.
Poster - Seminar by Mr. Martin Eberts, Consul General, Consulate General of Germany Osaka-Kobe