Greetings from the President

Greetings from the President
What to Cultivate in Yourself As a Kwansei Gakuin Student
Osamu Murata, President
Dr. C.J.L. Bates, the fourth chancellor of Kwansei Gakuin, established the school motto "Mastery for Service" based on the founding principles of the institution. After introducing this motto in his statement, he said, "We do not desire to be weaklings. We aim to be strong, to be masters," urging his students to self-actualize and to train themselves to be strong, not only for their own sake, but also for all humanity. So, what should you cultivate in yourself during your college days?
One thing you should do is to become aware of what problems are. To determine the presence of problems in a certain event, you should have your own standards. In other words, you should have your own view of the world. Learning at university prepares you to form your own view of the world. Another important thing you should do is master the basics that will enable you to keep learning even after graduation. Rapid changes are taking place in the world, and what you learn at university soon becomes obsolete. You should always try to continue acquiring new knowledge and information. To that end, it is extremely important for you to acquire scientific thinking skills to draw conclusions by conducting investigations in your field of specialization.
To form your own view of the world and acquire scientific thinking skills, you need persistent learning and constant practice, and these require considerable effort and patience. I hope that, through relentless learning and practice, you will train yourselves and grow into World Citizens who embody our school motto,"Mastery for Service."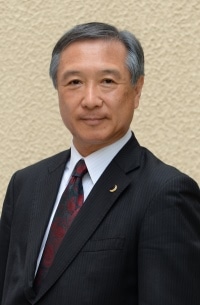 What We Need to Preserve, and What We Need to Change
Kazuo Hiramatsu, Chairman
This year will be the 130th anniversary of Kwansei Gakuin's founding, and the 90th year since it moved to Uegahara. This is a turning point for KG. The important thing is to be aware that the environment which surrounds KG is drastically changing. The principles which we must adhere to as a traditional private institution, and what we have to change - we must get a firm, clear view of those things as we manage the institution. I want KG to be a place that flexibly responds to the environment while it makes proactive reform efforts, and feels vibrant and dynamic.
What we have to protect are the teachings of Dr. Lambuth and of Dr. Bates, who created the cornerstones of KG's development. Dr. Lambuth extolled education based on Christian principles and the cultivation of World Citizens, together with Dr. Bates' business education. We have implemented whole-person education through extracurricular activities such as sports, cultural activities, and now, volunteerism. I believe that we must protect the teachings of our first two leaders when KG was founded.
We have compiled the Kwansei Grand Challenge 2039, a long-term vision which looks at our 150-year anniversary. We will tackle the issues of a declining childbirth rate, ICT development, and the relative economic decline of the Kansai area, and execute the mission set out by our founding leaders. That will lead to an increase in the appeal of KG. I would like to deepen our relationships with the Kansai economic world, move forward with globalization, strengthen our cooperative relationship with alumni networks, and become united in order to send out a message that boosts our appeal.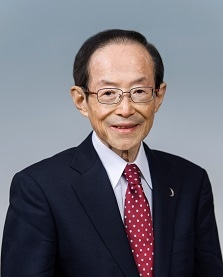 What We Should Aspire To: Having "No Fences"
Jo Funaki, Chancellor
Kwansei Gakuin is a fairly large learning and research community with 27,000 students from kindergarten through undergraduate and graduate levels, as well as an International School (K-12), spread over a total of eight campuses - three in Nishinomiya - along with those in Sanda, Takarazuka, Senri, Osaka, and Tokyo. When the parents and guardians of those students and our more than 200,000 alumni are included, that community extends throughout the world.
At the time of its founding, Kwansei Gakuin had just 19 students. Nonetheless, the school conceived by Walter R. Lambuth, the missionary who served as Kwansei's first chancellor, was a global one, just like today's Kwansei Gakuin. For him, it was not the institution's size, but rather the global perspective that shaped its studies that was important. He returned to the United States two years after founding the school and subsequently worked in locations including South America, Europe, Africa, and Siberia, earning the description on a monument in Mississippi that memorializes him as a "World Citizen and Christian Apostle to many lands."
Kwansei Gakuin has made changes that would have been unimaginable 130 years ago when it was founded at Harada-no-Mori, and has become a large-scale organization rich with diversity. Amidst those waves of change, we will retain and further develop our founding spirit and education based on Christian principles. We are here today because we continued to work toward that understanding and a shared ownership, and I think that many prayers and devoted efforts lie behind it.
When Kwansei Gakuin moved from Harada-no-Mori to the Uegahara campus 90 years ago, our fourth chancellor (and first President), Dr. Bates, was enamored with the open atmosphere on campus and its lack of fences. The words he left behind, "We have no fences," show one ideal to aspire to for the people who study and work at Kwansei Gakuin. As a large organization where many diverse people are gathered, in a society where it is necessary to work toward a diverse society, we must not shrink from that diversity. I want us to discover the rich potential in diversity, avoid putting up unnecessary "fences" against other people and against ourselves, and coexist with one another. I also want us to share in the fact that our challenge remains unchanged - moving forward in order to build such a society - and it will stay the same in the future, as well.