The KG Time Tunnel
Why don't you travel back to Old Kwansei through the time tunnel?
Yuko Ikeda, Kwansei Gakuin Archives,
Special thanks to Camilla Blakeley for editorial assistance.
JANUARY
7th -- On this day in 1889, U. W. Utley opened a day school at the Palmore Institute.
On November 1, 1888, U. W. Utley (photo) began to teach in the afternoons at the Palmore Institute, which had previously offered night classes only. He soon discovered that three hours of instruction in the afternoon was insufficient, so he decided to open a regular day school in the new year. It began with 10 pupils, but attendance soon reached 30, and finally 48. When Kwansei Gakuin was founded in September, Utley became the first dean of the Academic Department.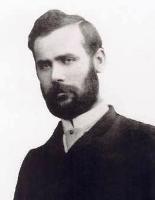 15th -- On this day in 1897, Genta Suzuki, an English-language teacher in the Academic Department, resigned from Kwansei Gakuin.
In February 1886, Genta Suzuki (far right in photo), who was studying in Shanghai, met J. W. Lambuth for the first time. Thereafter, he would visit the Lambuths at least twice a week. Lambuth trusted the ability and personality of this young man from Sendai and asked him to come with the family to Japan, where the Methodist Episcopal Church, South, had just decided to open a mission. Suzuki agreed and arrived in Kobe in July with the missionary group. He worked ceaselessly, translating, negotiating with the police, prefectural and municipal offices, hiring employees, and buying necessities. He became the church's first convert and went to the United States to study. After spending eight years there, he came back to Japan to teach at Kwansei Gakuin, which had by then been founded by W. R. Lambuth, J. W. Lambuth's son. Suzuki determined to make Kobe his final home, but after just two years he quit the school. "If W. R. Lambuth had been with us in Japan at that time…," Suzuki mused later in life.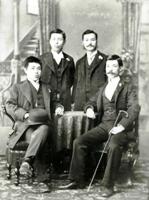 28th -- On this day in 1915, Tosuke Oyama, Dean of the Literary College, made his farewell speech to the students.
n late June 1913, Sakusaburo Uchigasaki introduced Tosuke Oyama (photo) to C. J. L. Bates, Dean of the College Department. Several hours later, the two men had opened up each other as if they had been friends for a decade. Through this connection, Oyama came to Kwansei Gakuin to teach. He demonstrated his ability as a reformer with respect to the literary curriculum, but ultimately decided to go back to Kesennuma, his home town, in order to realize his dream of becoming a statesman. "Oyama was an idealist, a thinker, a literary man, and a philosopher. He was a good preacher and a mystic. He was a man of rare magnanimity as a statesman and also as a religionist," according to the 1931 publication Bungakubu Kaiko (Reminiscences of the Literary College). His resignation was deeply regretted.