SIS Careers
Kwansei Gakuin University
Equipped with the ability to "understand and analyze issues in international affairs," which is the goal of the SIS, the School's graduates will be qualified for a wide range of careers, both within Japan and on the international stage. Students are expected to work for multi-national companies, international organizations, central and local government offices, educational institutions, NGOs, and NPOs. Some students will continue their studies at graduate school.
Alumni Career Paths
The table below shows the career paths of graduates of the SIS English-based Degree Program.
Alumni Career Paths
Number of Students
2022
2021
2020
2019
2018
2017
Working in Japan
13
4
2
6
10
6
Working Abroad
2
1
1
1
1
0
Graduate School
Japanese
1
3
1
1
0
0
Overseas
2
0
4
0
0
1
Others
6
3
4
1
6
2
Total
24
11
12
9
17
9
Past Place of Employment
Asahi Kasei Corporation, BK Japan Holdings, Capcom, Daihatsu Motor, Fast Retailing, IBM Japan, Japan Airlines, Japan External Trade Organization(JETRO), NTT DATA Global Services Corporation, TOYOBO CO., LTD
(Alphabetical order)
Message from SIS Alumni
Ms. Margret Nantongo Ssekitoleko
Environmental Education
Graduate School of Global Environmental Studies
Kyoto University
During my undergraduate study at kwansei Gakuin University I had many life experiences but the best thing I obtained from SIS was the socialization, friendship, academic support, guidance and advice I always received from SIS supportive staff and professors. I made new friends from around the world, and also established meaningful relationships with my professors which was beneficial for me to successfully get my academic qualifications in such a supportive and friendly environment with amazing qualified professors at SIS. My campus life at KGU has been the best time of my life. It was four years of hard work and great fun. To be honest I had a positive life! It was such a privilege and honor to be a member of International Affairs Club (IAC), joining Thursday Chapel Mass with Professor Lee and doing volunteering at Unicef, Osaka. Engaging myself in different activities empowered me so much as a student with opportunity to learn from fellow students, making interactions with both Japanese and international students which helped me to build confidence and obtained new communication skills as well as reaching out to society with positive energy to change people's lives. With the background of international studies from KGU, I decided to go to graduate school to continue following my career path in Environmental Management. I wanted to combine both International studies and Environmental Management knowledge, understanding, and skills I gained in both fields to solve the global environmental problems in future. For both international and Japanese students I recommend them to use their precious time carefully during their stay at KGU. University helps us to grow more into responsible, independent individuals but students need to budget for their time in advance. This is paramount for them to know their priorities while choosing the activities in which they can engage themselves into. Lastly, I want to encourage students to work hard, play hard and enjoy life, but I urge them to always aim higher and to remember that change always begin with you, you are the change and you have the power to bring that change you want to see in the world!

STAY FOCUSED, DETERMINED, PRAYFUL AND KEEP AIMING TO ACHIEVE YOUR DREAMS AND TO REACH YOUR GOALS AND DESTINY.
WITH DEDICATION, AND HARD WORK ALL THINGS ARE POSSIBLE!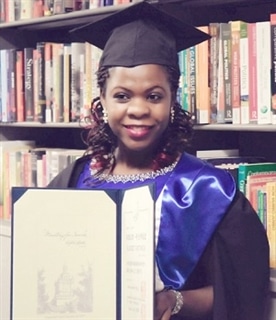 Ms. Yu Fen, Vivian, Yang
FANTASIA Inc. Overseas PR Dept.
The four years in SIS was the most amazing years in my life. The courses that I took gave me the opportunity to learn about the business world. I even participated in a cross-cultural internship program which allowed me to get a close look upon the real business world. I am interested in the study of "glocalization". SIS gave me the opportunity to explore upon the topics related to glocalization and globalized business. This is a relatively new topic, yet a necessary strategy for business to go global.

Currently I am working for a promotion agency, Fantasia Inc. which is based in Osaka. We are providing PR, business consulting, and branding services to both Japanese and overseas companies. Instead of going back to my home country, I chose to stay in Japan and working for this start-up company. Since this is a promotion agency and trying to connect local business in a global framework. Moreover, without the "glocal" knowledge, it is difficult for business to become successful, which was the topic that I had studied during my undergraduate school. I was pleased that I am be able to utilize the knowledge that I obtained back in school in my current and hopefully future career.

For students whom are interesting in coming to Japan and applying for undergraduate at SIS, I would recommend you guys to study some basic Japanese before coming to Japan, or you could also choose to go to a Japanese language school in Japan before applying to SIS. Since Japanese is the only and main language people use in daily life, so for your own convenient I would definitely recommend you guys to obtain some Japanese ability in order to make academic and private life much better. SIS is absolutely full with chances and possibilities!