Thus Spoke Bates
The Centennial Anniversay of the Establishment of Kwansei Gakuin College
Kwansei Gakuin College, Literary and Commercial, was established in 1912 and C. J. L. Bates, a Canadian missionary, became the first dean. The first graduates were in the class of 1916.
In order to remember the great efforts Bates and his colleagues made in those early days, I have tried to collect the messages Bates gave to the graduates.
Bates left Kwansei Gakuin in 1917 but came back in 1920 as the fourth president and served there for twenty years. I was able to find one message he gave as dean and ten messages as president from the Commercial College graduation albums.
I also picked up two graduation addresses, from 1938 and 1939, and his farewell letter to the graduates, from 1940.
I hope you are interested in his words and photographs.
November 10, 2011
Yuko Ikeda
Kwansei Gakuin Archives
Special thanks to Mr. Takao Abe for his kind support.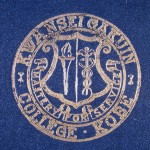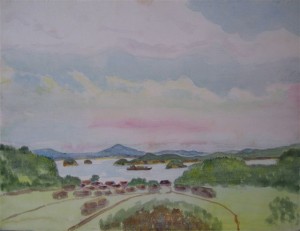 for his 135th birthday
In this second booklet, I am pleased to show you two messages from C. J. L. Bates, the fourth president of Kwansei Gakuin from 1920 to 1940. Both were written in Canada after he left Japan.
1. Understanding Japan, 1942 —————————— p. 2
2. Reminiscences of Kwansei Gakuin, 1949 ———– p. 10
I hope you will feel something from his words, photographs, or paintings (watercolor).
May 26, 2012
Yuko Ikeda
Kwansei Gakuin Archives