Steven Mayes, Mt. Allison University

Students' Voices
Steven Mayes, Mt. Allison University(Canada)

2019.11.27
Public Relations Office
Choosing KGU
What made you decide to study here at KGU?

I was looking for the next progression in learning Japanese, and I found this school, it's a sister school of Mt. Allison. I'd been here before, and our exchange students at Mt. Allison are from this area, so I was able to come here and have friends.

Could you tell me a bit about your average day here?

I wake up about 7:30 and look over my pre-study work for the chapter of the day, go to class for three hours, lunch, then usually another class or another fun different segment, various interesting Japanese things, like flower arrangement, and today we're dyeing cloth, which I didn't know was even a thing.

Ato-some (piece dyeing), maybe?

I could not tell you. (laughs)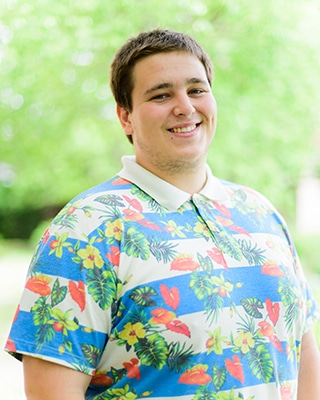 On KGU Student Life
Is there a particular class that has really stood out to you?

The language class comes to mind. That was a step above, it was very difficult.

How much Japanese did you have before you came on the exchange program?

I did one year back at Mt. Allison.

Are you staying in the dormitories or with a host family?

I'm staying in the dorms.

How have you found it?

Oh, it's much better than I thought it was going to be. All the people that I know who go to this school commute, so I was expecting to also commute for an hour, but it's a six minute walk to class, so it's pretty nice. It's all international students, which is also good, because you get to learn about other cultures.

Are there any favorite spots you have on campus, like the Global Lounge?
I really like the courtyard out in front of the tower. It's just really relaxing. It's out in the sun, and you get to hang out. I usually hang out in the courtyard around Big Mama, Big Papa and the gym, that's where I spend a lot of time.

How do students at KGU differ from students at Mt. Allison?

There's definitely less of a party culture here… all the students seem to give a lot of effort. Japanese students wouldn't have their phones out. Usually I have my notebook and my phone right there.
Future Aspirations and Advice for Prospective Students
How do you think you'll be able to take what you've learned here and translate that into continuing your education in Canada?

I'm a history major, and I really want to be a teacher. I wanted to teach somewhere in Asia. I chose Japan as the place where I want to teach, so I've been learning about Japanese history. Being able to read some kanji has actually really helped with being able to remember words and Japanese names, like Oda Nobunaga. Now I can put more names to faces, and things like kofun and Osaka Castle, I can make sense of them.

Finally, what would you say to prospective students who are thinking about studying here at KG? Do you have any advice or recommendations?

I would recommend trying to get into as many areas with other Japanese students, because I found my Japanese accelerated so much when I actually talked to Japanese people, and when I went back to the dorm, everyone was speaking English.

My university has kind of a small-town feel, and KGU has that too. There's a lot of greenery around, it's very welcoming, and all the people here are nice and have smiles when you see them, which is not always the case when you go into the city… (laughs)

The teachers are nice, even though they are pretty strict, and the (five week) program I'm taking is very intense. My Japanese has gotten so much better, I learned more in these four weeks of schooling than I did in one year back home. When I first got here I didn't really understand what the professor was explaining, but now I'm learning in Japanese. I actually don't know if the professor speaks English or not.