Sarah Carmona, San Jose State University

Students' Voices
Sarah Carmona, San Jose State University(USA)

2019.11.27
Public Relations Office
Choosing KGU
What made you decide to study at KG?

It was because of the host families. No other exchange program offered by my school had host families, which would give you a chance to just live in a Japanese environment, so I really liked that here. The language classes are taught only in Japanese, which is good for leveling up understanding.

Did you know anything about this area beforehand?

No, I just knew it was close to Osaka.

How has it been living with your host family?

When I moved in, it was just straight-up Japanese from the beginning, and that was really surprising…

What's the makeup of your host family? Do you have host brothers and sisters?

Yes, it's actually kind of perfect. I have a host dad and mom, but then a 13-year old brother, 12-year old sister and 2-year old sister.

So you get your baby Japanese practice as well.

Yes! It's great because they're at my level of Japanese, so I can converse with them very easily, and the host mom, she adjusts to my level. She talks to me like she would talk to her kid, so it's good, it's understandable.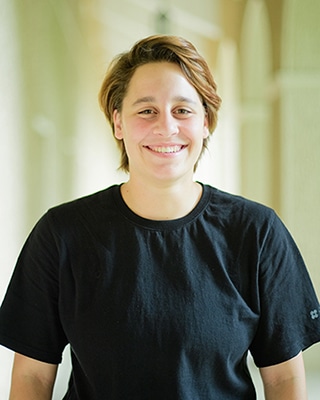 On KGU Student Life
Could you tell me a bit about your average day at KGU?

Since I live pretty far away and my commute is 40 minutes, I get up at 6. I get to school and buy breakfast before I come in. Typically we don't have two classes in a row, unless it's Wednesdays. I hang out in the Global Lounge to do homework, and I talk to people there before going to another class and then going home.

How have you found your classes?

I was originally Level 2 (CEFR A2/JLPT N4) and then I moved to Level 3 (CEFR A2-B1/JLPT N3). The way Level 3 is taught is completely different from Level 2. In the beginning I wasn't completely prepared for it, so I was struggling a bit, but I'm OK now. That initial jump was hard. Other than that, the classes are useful, definitely, since everything is in Japanese, so even if I don't understand the lesson totally, I still get practice listening to them.

How much Japanese did you have before you came?

I'd studied for four years in high school, but I took a break to focus on my other college electives, so I had forgotten a lot of it. I would say I'd learned enough to survive but not enough to make decent conversation outside of the essentials, like asking for directions or asking "Do you know where I can find this?"

Other than the language classes, have any of the culture classes particularly stood out to you?

They're really interesting, and since they're conducted in English so I can understand them a bit easier. They're really engaging, and the teachers have a way of explaining things to make them easier to understand.

What are your favorite spots on campus?

I have to say the Global Lounge. It's the easiest place to talk to Japanese students and international students when they come in.

How have your experiences been with the other students in your program?
We're all in the same boat. When we came here we didn't know anything about Japanese life, and maybe felt a bit alienated, as a bunch of foreigners together, so I feel that I've gotten very close to the exchange students here.
Future Aspirations and Advice for Prospective Students
What would you say to a prospective student thinking about doing an exchange program at KGU?

Obviously when you come here, you're going to want to explore the cities and different historical sites, but don't neglect your Japanese studies, because you will still have time to do all that. Also, medicine is very different from medicine in the States, so do your research.

How will you take what you've learned here and apply that to your continuing education when you go back to your home university, in terms of your future goals?

When I came here I had to be a lot more independent. In order to actually use my Japanese I had to participate in lots of different events like festivals and concerts, so I think it definitely improved my public speaking skills, because that made me go out of my comfort zone. When I go back, I think I can do that with ease. The language is still something I have to keep up with.

Finally, what's your favorite Japanese expression?

I'm going to have to be stereotypical and say "nande ya nen."

Did you practice a lot of Kansai-ben while you were here?

My host siblings always speak in Kansai-ben, so I hear it a lot. I'm not comfortable using it yet, but when I can, it's a lot of fun.