"What Do Food and Sustainability Mean to Generation Z?" Discussion Group Meeting Held at KGU

News and Topics
"What Do Food and Sustainability Mean to Generation Z?" Discussion Group Meeting Held at KGU


2022.07.26
On July 14, Kwansei Gakuin University held a discussion group meeting at its Osaka Umeda Campus on the topic of food loss reduction in collaboration with Zero Food Waste, a subcommittee of the Kansai SDGs Platform. Rin Hayashi, a twelfth-year student at the Senri International School of Kwansei Gakuin, and four members of the Kwansei Gakuin University student organization Re.colab KOBE (commonly known as Re.colab) served as guest lecturers for the meeting, and participants heard from them about their respective efforts.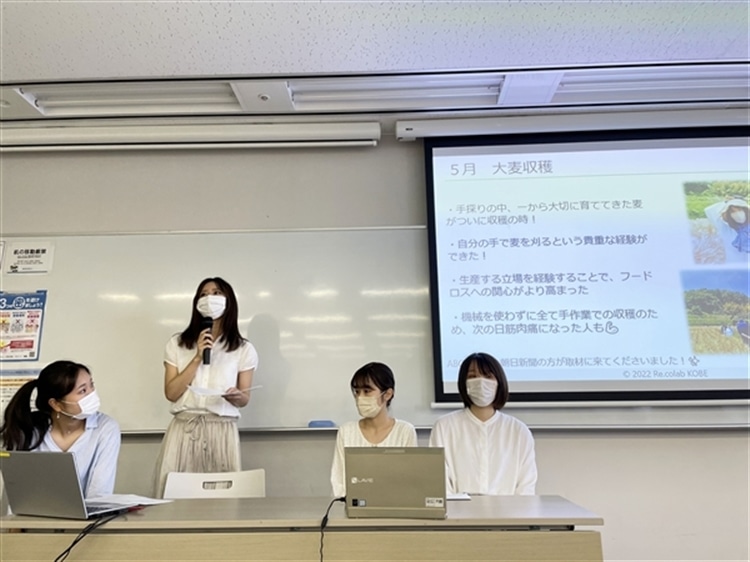 While currently attending high school, Hayashi operates the "L/R Kitchen" food truck, and is working to reduce food loss through the use of imperfect vegetables and the introduction of a pre-booking system. During her lecture, Hayashi reflected on her struggles prior to operating the food truck, such as raising money for expenses and creating application documents, and said that her research skills, which were cultivated through the comprehensive inquiry-based learning programs at Senri International School, served her well in many situations. With regard to food loss, in addition to doing prior research on topics such as foot traffic, times, and clientele in the area of operation and devising a menu to prevent food from going unsold, she is engaged in various efforts to avoid food waste, such as coming up with a roast beef bowl made with meat scraps as a low-priced version of the roast beef bowl, L/R Kitchen's signature menu item.
Re.colab is engaged in efforts to restore nature's abundance, and since 2021, the group has been working to grow barley on abandoned cropland in Kita-ku, Kobe. During their lecture, the Re.colab members introduced their farming work from last fall up until this spring, and said that being on the side of produce growers greatly increased their interest in food loss. The majority of the barley cultivated by Re.colab was purchased by a farmer in Nishi-ku, Kobe, and is scheduled to be used as an ingredient in craft beer. However, the members of the group are working on other ways to utilize the produce they grew themselves without wasting it, such as making barley tea and straw. Going forward, the group is considering initiatives such as the cultivation of new crops like buckwheat and wheat and setting up a food stand at a local multicultural sharehouse. It is expected that Re.colab's efforts to deepen the connection between humans and nature through agricultural produce will make further progress.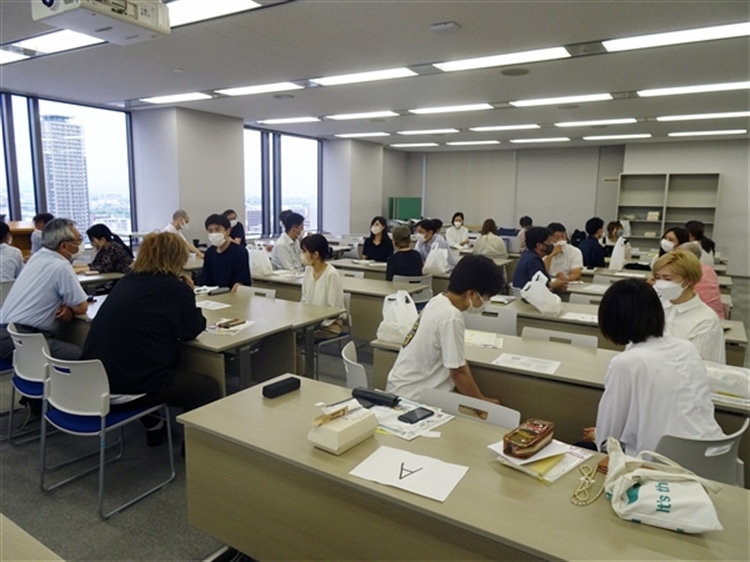 After the lectures, the audience of roughly 30 people, which included business operators and university students, broke into small groups to exchange opinions about promoting food loss reduction from their respective positions, among other topics. One student who joined the discussion group meeting said "The guest lecturers' ability to take action was inspiring and gave me the courage to take a step forward;" another student said "I want to utilize what I have learned in today's meeting for KG SDGs Campus Supporter activities in the future." The students were able to boost their morale for accomplishing each of the SDGs.