Setsuko Thurlow Awarded an Honorary Doctorate and the Kwansei Gakuin Award

News and Topics
Setsuko Thurlow Awarded an Honorary Doctorate and the Kwansei Gakuin Award

2023.05.16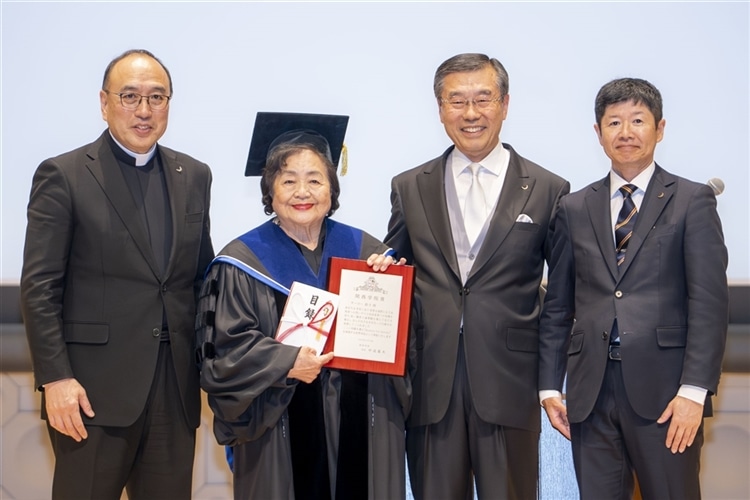 On Wednesday, May 10, a ceremony was held at the Nishinomiya Uegahara Campus to award an honorary doctorate to Setsuko Thurlow, as well as the Kwansei Gakuin Award. Thurlow is a graduate of Hiroshima Jogakuin College, which has close ties to KGU, and was baptized and converted to Christianity by Reverend Kiyoshi Tanimoto, a graduate of the Kwansei Gakuin Theological Seminary who was working to raise awareness as an survivor of the atomic bomb. She was also married to Jim Thurlow, who was an English teacher at Kwansei Gakuin Junior High School from 1953 to 1955, and lived in the Mission Hall (now O'Hara Hall) from 1958 to 1962 when her husband came back to Japan as a missionary. To recognize Thurlow's longstanding peace activities as an atomic bomb survivor and her embodiment of Kwansei Gakuin's school motto, "Mastery for Service," through these activities, she was awarded an honorary doctorate and the Kwansei Gakuin Award.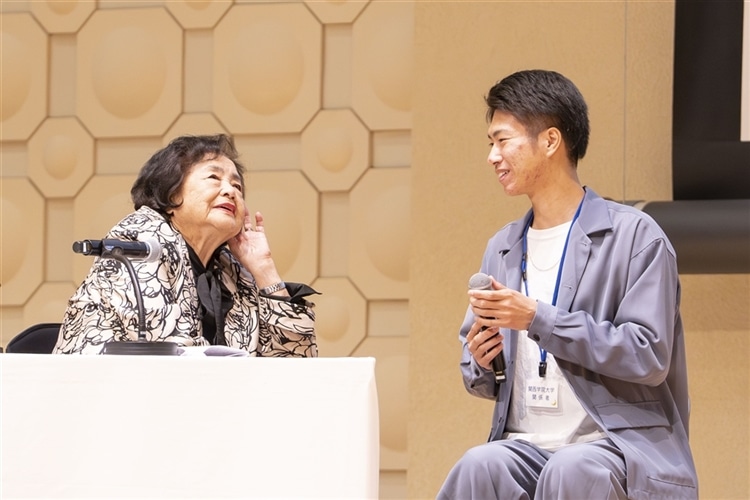 Upon receiving the award, Thurlow commented, "I am overwhelmed with emotion and excitement. I think my husband is celebrating from heaven." During the lecture that followed the award ceremony, Thurlow spoke about her own experience of the atomic bombing and her feelings upon hearing the news of the adoption of the Nuclear Weapons Convention in 2017. The audience then applauded as a video played of Setsuko Thurlow's speech on behalf of ICAN (International Campaign to Abolish Nuclear Weapons), which received the Nobel Peace Prize in 2017.
After her lecture, she answered questions from students who were similarly born in Hiroshima Prefecture and have relatives who have experienced the atomic bombings. Responding to a question about the meaning of atomic bomb survivors speaking about their experiences, Setsuko Thurlow said, "People should know the truth about the bombing from a variety of perspectives. I want to preserve the real voices of the atomic bomb survivors."
In response to Thurlow's answer, a student commented, "There are many students at Kwansei Gakuin University who are interested in peace and human rights. This talk was a valuable asset and learning experience for us." The ceremony ended on a high note, with a bouquet of flowers presented to Thurlow by the students.