KGU and the Miyako Church Hold a Service to Remember the Victims of the Great East Japan Earthquake

News and Topics
KGU and the Miyako Church Hold a Service to Remember the Victims of the Great East Japan Earthquake



2021.03.12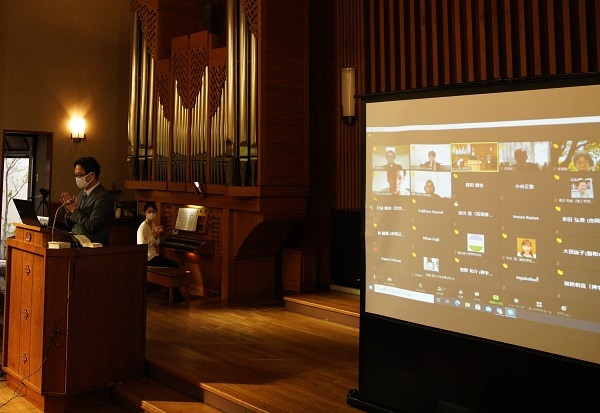 On March 11, the 10th anniversary of the Great East Japan Earthquake, Kwansei Gakuin held an online memorial service from the Lambuth Memorial Chapel on the Nishinomiya Uegahara Campus using Zoom. The service was attended by 42 people (36 online, 6 on-site) from inside and outside the school, including faculty, staff, and students. Kazuki Moriwake, a pastor who was affected by the earthquake and tsunami in Miyako City, Iwate Prefecture, and still serves as the director of a certified children's school in the area, reflected on the situation at the time online. He said, "There are things we can do to help even if we are far away. I would like to think about how I can deliver my feelings for the victims." It was a service to reflect on the victims and to think about how to support the disaster-stricken areas.
Every year on March 11, Kwansei Gakuin has held a memorial service. This year, due to the impact of COVID-19, the service was not held online, but was held in conjunction with the Miyako Church at 14:46, the time of the earthquake. Mr. Satoshi Inoue, Chaplain at the Christian Center, was also a pastor in Shiwa Town, Iwate Prefecture when the earthquake struck.
About 10 people from Miyako Church also participated in the event. Pastor Moriwake explained that although he himself was in a kindergarten (at the time) located on high ground, and was not directly affected by the tsunami, the next day he saw seven cars folded up and swept away around the Miyako Church, which was flooded by two meters of water, and the floor of the church was covered with mud. The small church then served as a kind of center for volunteers from all over the country, and became a base for distributing relief supplies to the victims for about a year. Pastor Moriwake touched on the negative effects of the concentration of phone calls immediately after the disaster, and problems with the contents of the relief supplies that were sent. When I think about ten years, I have been supported by a lot of prayers and encouragement," he recalled. He said, "There are things we can do to support people without physically going to where they are. I would like for us to think about how we can deliver our thoughts and feelings to the victims at the 10-year mark."