Three KGU Students Participate in the 36th United Nations University Global Seminar

News and Topics
Three KGU Students Participate in the 36th United Nations University Global Seminar


2021.05.11
The 36th Global Seminar, organized by the United Nations University Institute for the Advanced Study of Sustainability, was held on March 10, 11 and 22, 2021. The Global Seminar is designed to raise awareness of the global issues facing modern society and the efforts of the United Nations. Undergraduate students, graduate students, and young professionals residing in Japan are eligible to participate. This year, the theme was "Sustainable Solutions for Global Environmental Problems," and 65 students from universities across Japan participated, based on this theme. KGU students Yuka Hirono and An Somin of the School of International Studies, as well as Jackson McGinnis Osborne of the Institute of Business and Accounting, joined the seminar and received certificates of completion.
The participants were divided into three groups to address the theme of environmental issues. After attending keynote speeches on the first and second days, each group analyzed the issues and proposed solutions, and on the third day, after 10 days of preparation, the keynote speeches were followed by the final presentations. In order to prepare presentation materials, each group was further divided into subgroups. Each subgroup researched the background and current situation of their topics, devised solutions from the three perspectives of "land," "air," and "water," and made presentations and discussions within the group. The subgroups discussed improvements to current measures and connections to other problems, then went on to make their final presentation as groups.

Due to the state of COVID-19 infections, the sessions were held online, a first for the Global Seminar. While it was difficult to have discussions in large groups and summarize opinions on a single topic due to the online nature of the program, by selecting representatives within the subgroups and summarizing their opinions, the groups were able to make excellent final presentations, and the participating students learned a great deal. Here are some comments from the three KGU participants.
◆Yuka Hirono, 4th year, School of International Studies
Q: Tell us about your reason for joining the seminar.
I was interested in international issues and the SDGs, and wanted to continue my studies in graduate school after graduating from university, so I decided to attend this Seminar because I felt it would be a valuable opportunity to have discussions with people from various backgrounds.
Q. How did you feel about participating in the seminar?
The theme of the final presentation of my group, Group C, was "2050 Agenda: A Sustainable Ecosystem Built through Sustainable Responses." In the subgroups, each member researched and gave presentations on the major themes of air pollution and acid rain, and discussed topics such as the connections between multiple issues, improvements in measures currently being taken, and contributions to the SDGs. By participating in this seminar, I strongly felt the link between environmental issues and our daily lives and economic activities. I also learned that these issues will become even more serious if we don't take action. On the other hand, by learning about the problems that the world is currently facing, coming up with ideas to solve them, and taking responsibility for our own actions, we can get closer to making a sustainable society a reality.
Q. This was the first time the seminar was held online. What was your impression of the group work?
I felt that it was difficult to conduct group activities and wrap up conversations about one topic in a limited amount of time, although I don't think that this is an issue exclusive to this seminar. Nevertheless, even though the sessions were online, through group discussions, I was able to learn a lot about different ways of thinking and looking at problems. The subgroup I belonged to had a variety of members, from graduate students to undergraduate students, and I was also able to have conversations with them about their specializations, future goals, and other things besides the topic, which was very stimulating.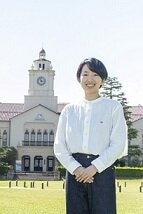 ◆An Somin, 4th year, School of International Studies
Q: Tell us about your reason for joining the seminar.
After studying in the U.S. for a year, and attending lectures at university, I became interested in topics such as "the SDGs" and a "sustainable society." I wanted to learn about them in a more systematic way, and at that time, my seminar professor recommended this Global Seminar to me, so I decided to participate.
Q. How did you feel about participating in the seminar?
It was good to be able to take my thoughts and produce output, and learn about sustainability in a systematic way. Until I participated in the seminar, my main method of learning had been input-based. However, in this seminar, I was able to produce output by using what I had learned to think up and propose my own solutions for the realization of a sustainable society. I felt satisfied that I was able to learn with a greater sense of ownership. In the future, I want to keep in mind that environmental problems can never be solved by one person alone, and I will try to constantly act in a responsible way. I also realized the importance of communicating and exchanging opinions with people who have diverse values, and I feel that I was able to grow in terms of how I relate to others.
Q: Do you have any advice for future participants?
I had a valuable opportunity to learn in-depth with a wonderful group of instructors and students from diverse countries, regions, universities, and cultures. Even if you aren't confident in your English ability, please don't feel intimidated, and give the seminar a try.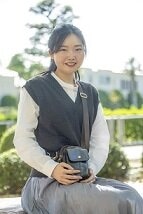 ◆Jackson McGinnis Osborne, 1st year, Institute of Business and Accounting, Global Public Management
Q: Tell us about your reason for joining the seminar.
I was interested in deriving important changes and solutions with regard to the climate crisis, and I thought this seminar would be a great opportunity to engage with like-minded students, so I joined the seminar.
Q. How did you feel about participating in the seminar?
Since it was difficult to have online discussions in a large group, my group, Group C, further divided the group into subgroups of six people each, for further research and discussion. I stood for the position of subgroup representative, and was involved in sharing information among the groups and preparing the final presentation. In the period between the second day and the presentation on the third day, we continued to hold daily group discussions, and sought advice from United Nations University professors in order to develop a proposal that was feasible. Thinking up and proposing viable solutions for complex global problems was a great experience. The seminar also made me realize that by having people with different backgrounds and values working together, it is possible for us to mitigate the climate crisis effectively.
Q. Do you have any advice for future participants?
The seminar is participation-based, and there's a lot of work involved. It's not easy, but the seminar is a great opportunity to learn useful information while interacting with instructors and students from various backgrounds, and to experience exercises where you tackle real-world problems.