Students Conduct a "Making Memories" Tour of Taiwan in Conjunction With JTB

News and Topics
Students Conduct a "Making Memories" Tour of Taiwan in Conjunction With JTB


2021.09.16
An online tour, "Making Memories of Taiwan," which Kwansei Gakuin students planned in conjunction with Taiwanese students for an online international education program during summer vacation, was made into a product by the JTB Kobe-Sannomiya location and JTB Taiwan and held on September 4 (Saturday). KGU students introduced the content of the tour, and the Taiwanese students explored sightseeing spots, visited shops, and introduced food items. As about 40 attendees looked on, the students talked about the appeal of visiting Taiwan, based on what they had learned.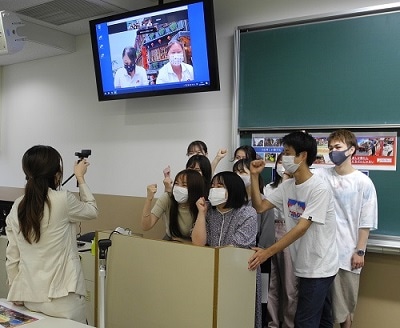 The 29 students who worked on the tour were in a Global PBL Tourism Digital Marketing class with the theme of "resolving the issues facing the travel industry during COVID-19 together with Taiwanese students." The class was set up as a substitute for short-term exchange programs where students could go abroad during summer vacation. Together with 20 Taiwanese university students, the class was split into 10 mixed groups. They learned about travel agency issues and marketing methods, as well as the challenges facing JTB Taiwan amidst the COVID-19 pandemic. They also analyzed the market through measures such as conducting a survey, "Why doesn't online travel sell to Generation Z?" on social media. Each group planned tours and filmed and edited videos. The one-hour "Making Memories" tour which won the judging competition was made into a product and introduced online as a JTB product from August 25 (the tour cost 250 Taiwanese dollars, or roughly 1,000 yen). The students advertised the tour on social media and through other means.
On the day of the tour, the other KGU students and the supervising staff member from the JTB Kobe-Sannomiya location gathered in a classroom on campus to watch the online tour. Two JTB Taiwan staff members served as coordinators, and the KGU students introduced the highlights of Taiwan to the attendees. They showed pictures of the Taiwanese students at tourist destinations like Dihua Street, Taipei Xiahai City God Temple, Shifen, Jiufen, and Ningxia Night Market, and introduced delicious Taiwanese food items like fried bread, mugwort dumplings, taro balls, oyster omelets, and tapioca. They also added quiz questions during the tour, among other ideas to get the attendees to feel close to the proceedings.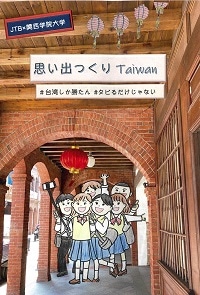 Yuna Itakura (1st-year, School of Law and Politics), one of the tour planners, said, "Since we can't actually go to these places, we thought about what would make customers happy. People who can't go on trips told us, 'I enjoyed seeing the tour,' on the day of our presentation. I want to do tourism-related work in the future, so it was a good learning experience.'