Faculty Message
Timothy Yun Hui TSU, Ph.D.
Professor of Religious Studies
Welcome to the School of International Studies. The creation of a School of International Studies committed to approaching education from a global perspective and with interdisciplinary expertise is a bold and exciting undertaking that I strongly identify with. I also believe that Japan is well placed to promote international studies and that KGU has a proud tradition of fostering intercultural exchange. I look forward to working with you aspiring young men and women from diverse social and cultural backgrounds and different parts of the world to rethink old problems, ask new questions, and search for innovative answers.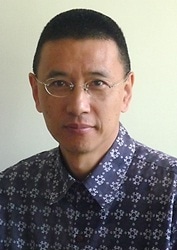 Holger Robert BUNGSCHE, Ph.D.
Professor of Economic