Students from Mount Allison University Visit KGU to Participate in International Exchange

News and Topics
Students from Mount Allison University Visit KGU to Participate in International Exchange


2023.05.13
On Monday, May 8, 14 students from Mount Allison University, a KGU partner university in Canada, visited the Nishinomiya-Uegahara Campus for a cultural exchange program with KGU students. This was the first on-campus international student exchange in about three years since March 2020, as activities have been restricted due to the COVID-19 pandemic. Many students were experiencing international exchange at the university for the first time, and although they seemed a little nervous at first, they soon became comfortable and enjoyed themselves in a friendly atmosphere.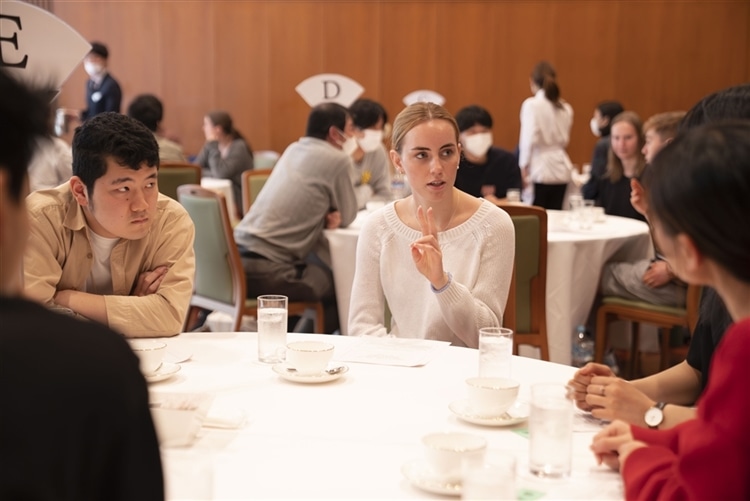 First, the students, who are majoring in East Asian Religions at Mount Allison University, participated in a program sponsored by the School of Theology. Professor Yusuke Iwano, Dean of the Faculty of Theology, welcomed the students with a "Thank you for coming" and gave a lecture on "Religion in Japan (Christianity in Japan)." During an exchange session among students after the lecture, there were scenes of students discussing religious studies and actively exchanging opinions.
The students participated in a program sponsored by the Organization for International Cooperation and interacted with KGU students who are planning to study abroad at Mount Allison University. The atmosphere at the Global Lounge was very lively, as the Mount Allison students listened to the presentations the KGU students had prepared for the day, then played games together and conversed in English.
Hinata Murakami, a senior in the School of Sociology, who plans to study abroad at Mt. Allison University this fall, said, "I was very happy to be able to get to know Mt. Allison University students in advance. I was a little nervous, but now I'm really looking forward to it," she said with a smile.