KGU Welcomes 5800 Undergraduate Students and 550 Graduate Students for the Spring AY2021 Semester

News and Topics
KGU Welcomes 5800 Undergraduate Students and 550 Graduate Students for the Spring AY2021 Semester

2021.04.03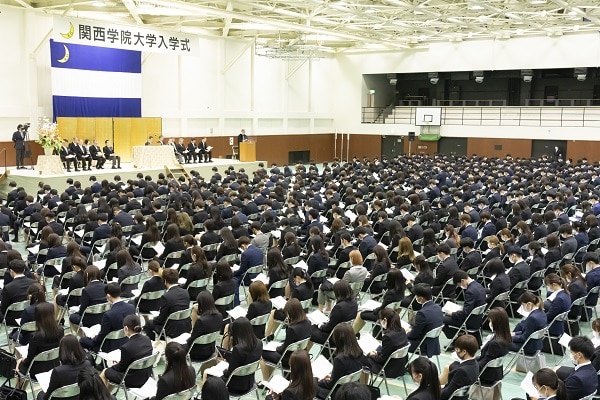 Kwansei Gakuin University held the AY 2021 Spring entrance ceremony at the Nishinomiya Uegahara campus gymnasium on April 1 and 2. Approximately 5800 undergraduate students were admitted to the 14 undergraduate Schools, which include the newly established Schools of Science, Engineering, Biological and Environmental Sciences (reorganized from the School of Science and Technology), and Architecture. Last year, the ceremony had to be cancelled due to the spread of COVID-19, but this year, the university took sufficient measures to prevent the spread of infection, such as establishing sufficient distance between the seats and dividing the ceremonies into four sessions instead of three.
In his ceremonial address, Osamu Murata, President of Kwansei Gakuin University, offered words of congratulations and then explained the impact of the spread of COVID-19 and the prospects for global change in a post-COVID society, saying, "As shown by the interest in the SDGs, global values are changing dramatically, and shifting in the direction of making contributions to society, not just pursuing one's own interests. Kwansei Gakuin has a school motto, Mastery for Service, which was proposed by the first President of the University, Dr. C.J.L. Bates. Dr Bates said, 'We do not want to be weak. having become masters, we desire not to inflate, and enrich ourselves for our own sake, but to render some useful service to humanity in order that the world may be better for our having lived in it.' I think this is the value system that is required in a post-COVID society," he said.
In addition, he said, "Looking ahead to the post-COVID era, when the world is undergoing drastic changes, we will be required to have competencies (abilities and qualities) that will bring about change, such as the ability to create new values, overcome conflicts and dilemmas, and act responsibly. In order to acquire these qualities, you need to have something to devote yourself to during your college years. The important thing to do is to always challenge yourself to do more than one thing at the same time, whether it is learning about AI, balancing studies and clubs, specializing in your field of study and studying abroad or engaging in off-campus activities, or studying across multiple departments. Innovation and creativity can only be created when knowledge and wisdom from different fields are combined. I sincerely hope that you will challenge yourself and develop yourself while you are at university, and that you will grow up to be a 'World Citizen who embodies Mastery for Service,' with great aspirations to spread your wings out in the real world and contribute to the happiness of mankind."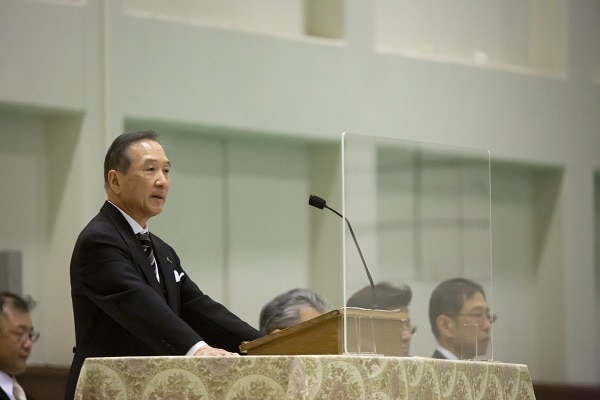 In his speech, Chancellor Jo Funaki explained the disparities and barriers across economies and nations which have become apparent due to the COVID-19 pandemic. "When Kwansei Gakuin moved to the Uegahara campus 92 years ago, Dr. Bates was the president. When Kwansei Gakuin moved to the Uegahara campus 92 years ago, Dr. Bates was the president of the school, and he said, 'We have no fences.' Even today, the Nishinomiya-Uegahara Campus is open, but at the time of the relocation, the Uegahara Campus had no walls or barriers because of its shape. Kwansei Gakuin represents a learning community where there are no barriers separating faculty and students, academic disciplines, or even the borders between the university and society. The people involved in Kwansei Gakuin are different in character, ability, upbringing, nationality, language, and ethnicity. These differences are not walls or obstacles. Through your life at Kwansei Gakuin University, I hope you will realize the richness of diversity, uncover your inner abilities, and acquire the ability to remove disparities and barriers," he said, encouraging the new students.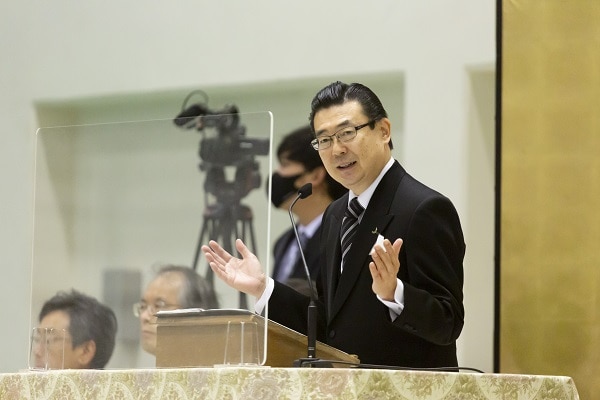 The graduate school entrance ceremony for Spring AY2021 was held on April 3 at the Nishinomiya Uegahara Campus gymnasium, with approximately 550 students admitted.