Approximately 2500 Students Join the Entrance Ceremony for New Second-Year Students

News and Topics
Approximately 2500 Students Join the Entrance Ceremony for New Second-Year Students

2021.04.05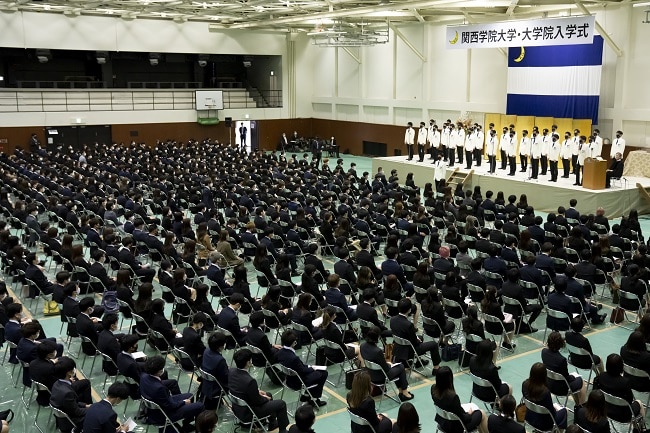 Kwansei Gakuin University held the AY 2021 Spring entrance ceremony for second-year undergraduate and graduate students at the Nishinomiya Uegahara campus gymnasium on April 3, which could not be held last year due to the spread of COVID-19. As in the case of the entrance ceremony for new students, the ceremony was held in two sessions, with measures taken to prevent the spread of infection, such as establishing sufficient space between seats.
In his ceremonial address, Osamu Murata, President of Kwansei Gakuin University, offered his congratulations to the new second-year students. " I am delighted to be able to hold this entrance ceremony, albeit a year late. Last year, the entrance ceremony was cancelled and classes were mainly online, which must have been very confusing for you. During the spring semester, a state of emergency was declared and the campus was closed to the public, which made it difficult to enjoy university life. This situation is expected to continue for the rest of the academic year, but it is important for all of you to keep in mind the post-COVID world after the the coronavirus has been brought under control." He went on to explain the school motto of Mastery for Service espoused by the first president of Kwansei Gakuin University, C.J.L. Bates. "Dr. Bates went on to urge us to train ourselves to be strong, not only for our own benefit, but also for the benefit of humanity. I think this is the value system that is required in a post-COVID society. What I want you to do in your next three years of college is to take on challenges in multiple ways. I want you to challenge yourself, improve yourself, and grow up to be 'World Citizens who embody Mastery for Service,' with the aspiration to spread your wings out in the real world and contribute to the happiness of mankind."
After the ceremony, the Kwansei Gakuin Glee Club sang the school song "Sora no Tsubasa" and other songs as a sign of welcome.